Breakfast & Recipes
Start your day at our luxury Bed and Breakfast with a full hot breakfast, and freshly brewed coffee or tea served in the quaint dining room or.  If you prefer and weather permitting, breakfast can also be enjoyed outside on the porch or deck.
Some of our favorites to serve you are gourmet pancakes with lemon sauce, Waffle stacks with fresh fruit, or Cheesy Mushroom Quiche, all served with mouthwatering baked goods, yogurt, juice and more. You will not leave the table hungry!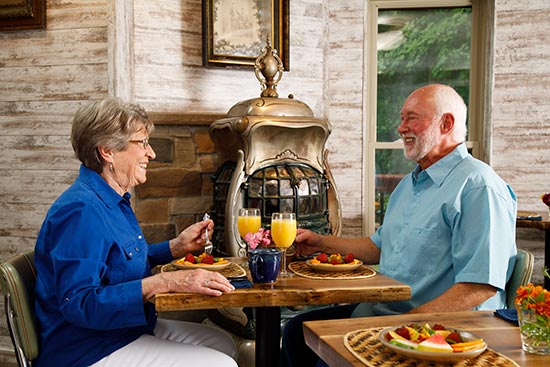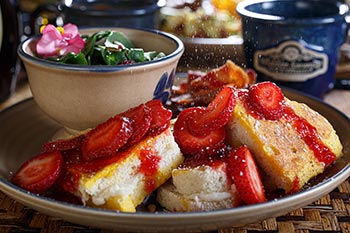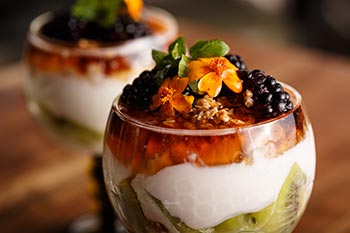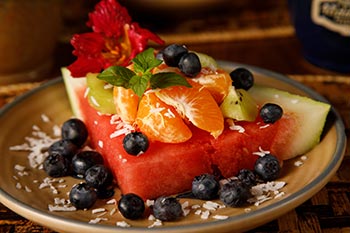 Gourmet Pancakes  With Lemon Sauce

1 1/4 cups flour
1/3 cup sugar
1 tsp baking soda
1/2 tsp baking powder
dash salt
1 cup light cottage cheese
1/2 cup plain yogurt
1/2 cup light sour cream
1 tsp vanilla extract
2 eggs
Lemon Sauce
1 egg beaten well
1 cup sugar
1/4 cup water
1/2 cup butter
zest of 1 lemon
juice of lemon
dash salt
In a large bowl, combine the flour, sugar, baking soda, baking powder and salt. In a second bowl, combine the cottage cheese, yogurt, sour cream, vanilla and eggs. Heat a griddle to medium. Once heated, combine the wet and dry mixtures. Butter or spray the griddle with nonstick cooking spray. Place 1/4 cup of batter on the griddle; the batter will be thick. Turn when the top bubbles and the edges begin to dry. It will take about 3 minutes per side to cook. Continue until all the batter has been used.
For the sauce: In a medium saucepan over medium-high heat, combine all the ingredients, stirring occasionally. Bring just to a boil before pouring into a small pitcher. Serve with warm pancakes
Variations: Serve with fresh berries or maple syrup.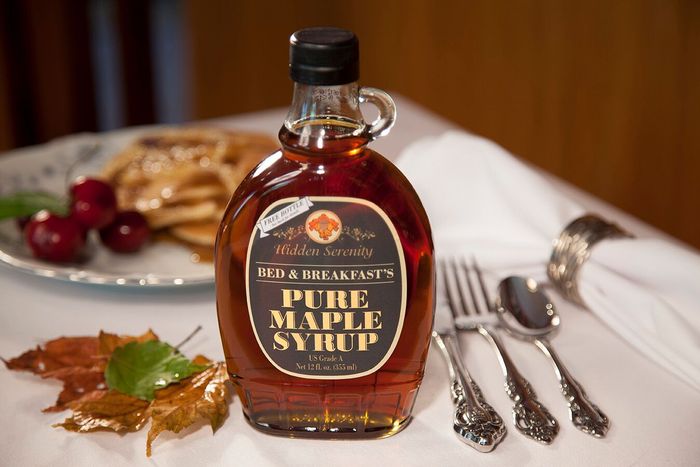 Mushroom Crusted Quiche

5 Tbsp butter, divided
1/2 lb. mushrooms, sliced
1/2 cup finely crushed saltine crackers
1/2 cup finely chopped green onions
2 cups shredded baby Swiss cheese
1 cup cottage cheese
3 eggs
1/4 tsp ground cayenne
1/4 tsp paprika
Preheat oven to 350 degrees Fahrenheit. In a skillet, melt 3 tablespoons butter over medium heat; add mushrooms and cook until limp. Stir in crushed crackers. Turn mixture into well-greased 9-inch pie pan, pressing mixture evenly over pan bottom and up sides. In same skillet, melt remaining 2 tablespoons butter over medium heat, add onion and cook until transparent. Spread onions over mushroom crust, then sprinkle evenly with shredded cheese. In a food processor or blender, whirl cottage cheese, eggs and cayenne pepper until smooth. Pour mixture into crust and sprinkle with paprika. Bake for 20-25 minutes or until knife inserted in the middle comes out clean. Let stand for 10 minutes before serving.