Start your day at our luxury Bed and Breakfast with a full hot breakfast, and freshly brewed coffee or tea served in our spacious breakfast room. Guest favorites include but are not limited to omelets, carrot cake oatmeal, stuffed French toast, baked portobello with eggs and German pancakes, all served with mouthwatering baked goods, yogurt, juice, and more.
Each morning our main course alternates between sweet and savory and you will experience a multi-course meal prepared with tender loving care. Our own maple syrup compliments the two or three-course breakfast.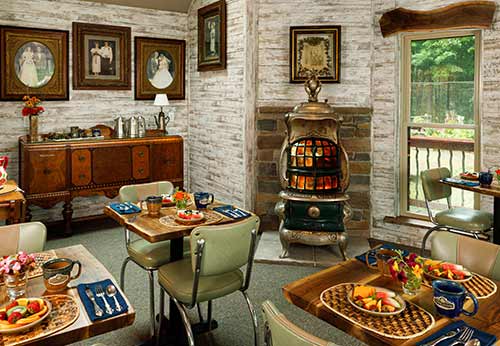 Highlights of breakfast at our inn may include
Maple syrup made straight from our trees
Flaming desserts
Stories of the inn
Coffee made with training from an expert, highly certified cupper
Fresh herbs and edible flowers from the outside gardens
Greens from a local aquaponics facility
With breakfast, we serve French Press coffee made with fresh ground beans and options of dark, medium, blonde, or decaf. We also serve freshly steeped loose leaf teas with choices of black, green, or herbal. Juice and water round out the breakfast beverage selection. We typically serve our multi-course breakfast at an assigned time between 8:15 and 9:15. We have coffee and tea available 24 hours in our breakfast room.
Be sure to let us know in advance, preferably at the time of booking, of any dietary needs, allergies, or other restrictions or strong preferences/aversions. It is our pleasure to accommodate Gluten Free, Dairy Free, Vegetarian, or Vegan diets. If you have other restrictions, just let us know how we can meet your particular needs.