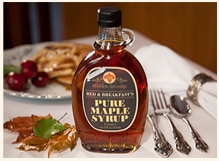 There are many great reasons to choose to stay at Hidden Serenity Bed and Breakfast in Wisconsin over a hotel. Some choose us for our comfortable rooms and environment. Others use our establishment as a lover's getaway. Or could it be the breakfasts…
Families, couples, and individuals book our Luxury Bed and Breakfast when they want to visit the North Kettle Moraine and surrounding areas, just want to get away from the hustle and bustle of the city or want to take their loved one to someplace special. Regardless of the reason for staying with us, we offer a serene place to sleep and relax away from home. It is so important to us to give you the best possible experience while you are in West Bend, WI. That is why we have put together an incredible experience for you and your loved one at our inn.
In addition to making sure our luxury rooms are elegant, relaxing and romantic, we bring you the best options for your first meal of the day. When you first get up in the morning, you will be treated to a gourmet breakfast straight from our kitchen. We make our breakfasts by hand from the freshest ingredients available to us. We have taken a lot of time and energy to ensure that you will love your meal.
What you can look forward to at breakfast at Hidden Serenity Bed and Breakfast:
Homemade maple syrup– We serve this with our pancakes and special side items.
Freshly ground Starbucks coffee- Each morning, we grind up coffee beans from Starbucks and use a French press to make you the most magnificent coffee to wake you up.
Tea from the garden- When you order a cup of our fresh herbal tea, you are drinking a blend that is straight from the plant when at all possible. Our other teas are brewed from lose leaf teas, not the bags.
Hand crafted meals- You are invited to our hand crafted breakfasts that we make from scratch every morning. This is dining at its finest.
Some thing to keep in mind when you are considering a bed and breakfast over hotel – do you want to thoroughly enjoy breakfast in a quiet, romantic setting. Stay at your table as long as you please, leisurely stroll to your room as you pass by windows looking out to the woods. Oh, and you might even spot a deer while you are sipping your coffee or tea.