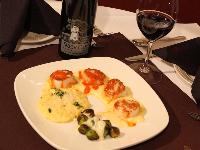 We love to provide our guests with the best possible stay here at Hidden Serenity Bed & Breakfast. It is a privilege for us to team up with the owners from Poplar Inn in West Bend, WI. Mike and Dee are wonderful hosts for this remarkable restaurant.
Poplar Inn has quite a history! The building was built in 1858 and was owned by a Union Civil War Captain. Over the years, it has served many different purposes. In the 80's, it was retrofitted to serve as a restaraunt. And remains a successful eating establishment to this day.
In the restaurant there are plenty of places to dine. You can choose between the:
Upper level
Lower level
Bar
Patio
Each area of the restaurant is exquisite and pleasing to the eye. The lighting casts a romantic glow and makes for a wonderful dining experience. They switch out their wall decorations depending on the season and provide eloquent table linens. It is an establishment where you can dress up for a special night out or go business casual if you'd like.
What is on the Menu?
Their chefs prepare and serve an assortment of delicious meals. They offer several dishes prepared with surf and turf items. Also, they have wonderful salad and other sides. Whether you like steak or seafood, you are sure to find something that is appealing to your taste. With their professional chef, you can feel confident your meal will be incredible. For those that love a good tasting wine, they have just the menu for you. Their wine and beer list is ever changing as they incorporate guest's favorites into the rotation. The wait staff is great at suggesting just the right pairing with your meal.
We have a great announcement to make! We have been talking with Mike and Dee, the owners, about going in together to create packages for our guests. The full details of the packages are not completed yet, but we plan to offer a $50 voucher to the Poplar Inn. We think that this partnership is perfect for us, because Mike and Dee run a luxury restaurant and are attentive to their guests, just as we are at Hidden Serenity. Hospitality is of utmost importance.
Not only can you make reservations to stay here at Hidden Serenity, but you can also make reservations at Poplar Inn for your dinner. If you are planning a special getaway weekend, this is perfect. When you place the reservations with us, you can do the same with them and make sure that your night goes smoothly. What a wonderful weekend you can create when you stay in one of our luxury suites and then dine at Poplar Inn.
Don't forget that we serve a gourmet breakfast each morning. You will walk away feeling completely spoiled and relaxed! Be sure to get in touch with us to find out about our room availability. It is never too early to plan your trip.