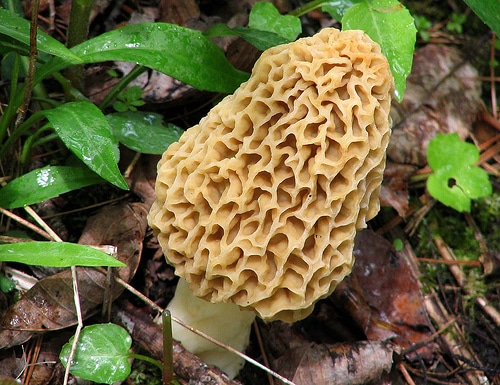 Do you really need to get out and do something, right now, after all this rain? Well, near Hidden Serenity Bed and Breakfast there is an activity you can participate in at any of the state parks, trails and natural areas. In addition to being fun and tasty, you can only do it at this time of the year.
Morel mushrooms hunting is an excellent activity for the month of May in Eastern Wisconsin. Morel mushrooms are a delicacy that can be found anywhere, but especially under the dead branches of elm trees. The morel mushroom comes in at least two varieties, but in general the earlier parts of May feature the smaller "grey" mushrooms which are 1-4 inches tall. Later in May the larger "yellow" (which are not really all that yellow) mushrooms arrive at an impressive size of as much at 10 inches tall.
While morel mushrooms can be bought in specialty stores the price is upwards of $25.00 per pound and you cannot guarantee the freshness. When you pick your own, you know they are fresh. There is something about the thrill of the hunt when it come to mushroom hunting. Taking home your day's harvest and cooking them with some butter or adding them to a favorite dish is something everyone should experience.
Although sautéing them in butter is a common way to prepare this delicacy, Morel mushrooms can be featured as a main course in vegetarian dishes or as a side dish for those who enjoy a good steak.
A word of caution always needs to be said in gathering any kind of mushroom – BE SURE you know that you have the right mushroom. There are a lot of great resources out there that can help you identify them correctly. When you know you've got it, enjoy hunting, gathering and finally eating. Just another fun thing to do while staying at our Kettle Moraine lodging, Hidden Serenity B&B!