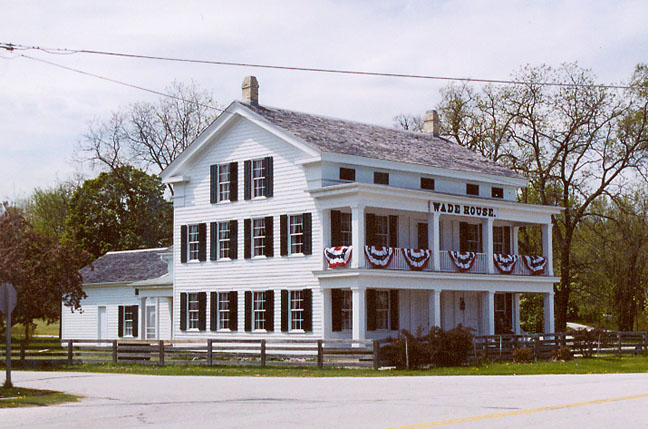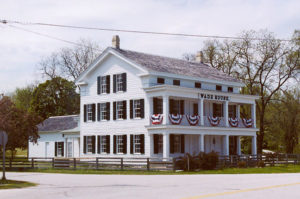 The Wade House. A Wisconsin historic adventure for you and your family where you will return to a time of stagecoach travel. The Wade family came to the area back in 1844 and settled in a place they felt had potential. They were the first permanent settlers in Greenbush and when they came there was mainly dense forest though they were along a well-used stagecoach trail. By the time Wisconsin became a state in 1848, the village was growing very fast and had two stores, a school, a sawmill, wagon shop, blacksmith and a doctor.
The Wade's house, at the beginning, included a small tavern and by 1848 it became a regular stop for stagecoach lines which led to the family building a new, elegant inn to serve the growing need. This inn prospered for over a decade then with the coming of railroads, the town growth began to stall and eventually one of the Wade's grandson's sold the inn.
Eventually the inn fell into the hands of Marie Christine Kohler in the 1950's with plans of restoring the Wade House, bringing the 100 year old building back to life. The property is now owned by Wisconsin Historical Society and opened to the public in 1953 as the society's second historic site.
On site, there is also a Wade House Visitor Center that opened in 2013 as well as the Wesley W. Jung Carriage Museum. This 38,000 square foot facility is home to Wisconsin's most extensive and diverse collection of carriages, sleighs, and wagons. The Wesley W. Jung Carriage Museum contains 70 horse and hand-drawn vehicles beautifully displayed in appropriate historical /interactive settings.
If you love history, you will thoroughly enjoy checking these wonderful blasts from Wisconsin's past while staying at Hidden Serenity Bed and Breakfast, only a short 30 minute drive. If you take the Kettle Moraine Scenic Dr., marked with signs along the way, you can thoroughly enjoy a ride through one of the most beautiful drives in Wisconsin. This drive starts a short distance from our romantic bed and breakfast and continues north to Greenbush, at the north end of the state forest.
Fun Wisconsin Fact: Wisconsin snowmobile trails total 15,210 miles of signed snow highways.