Over the weekend I was able to visit Strawberry fest in Cedarburg, Wisconsin.  The experience was great and it seemed like everyone there was enjoying themselves. Who wouldn't when they're around fresh food, great music, and freshly picked strawberries?  Most people tend to visit with family and friends and pack the car full to come to famous Washington Street in Cedarburg, WI. Over the two day event more than 100,000 people stop in the quaint historic town.
Although Strawberry fest has come and gone, Summerfest is right around the corner. Summerfest starts on June 27th and ends July 8th with a break on July 2nd.  Almost one million people visit summerfest per year for the amazing music and if you were looking for something larger than Strawberry fest, here it is.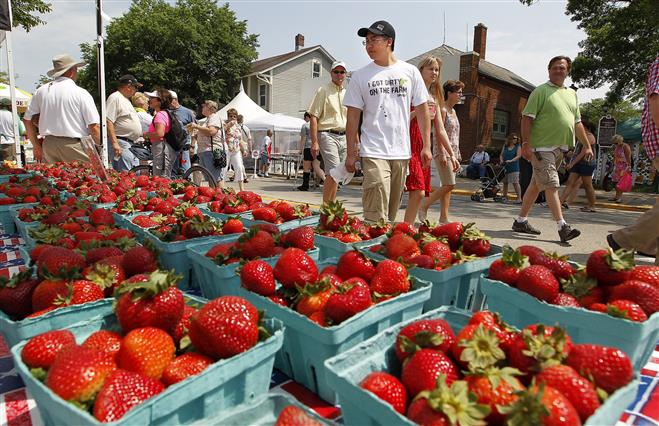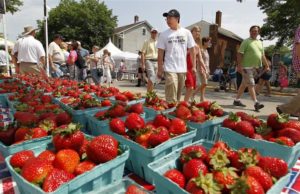 Strawberry fest was, in my opinion, a smaller scale Summerfest. For people looking for that smaller town, more local feeling this would be it. There were many local artists that proudly shared their work. There were many different sculptures, paintings, and drawings, as well as craftsman  in woodworking, glass and fiber art.  Throughout the length of the festival there were many options for food along the way, but some unique, catch-the-eye options were worth noting. The strawberry brat, strawberry chicken wrap, and strawberry brat corndog were among those.  Although less unique, the strawberry lemonade was extremely good and I had to indulge in a chocolate covered strawberry. Needless to say the food offered was wonderful!  In addition to the amazing food, there were a plethora of local musicians playing throughout the weekend that provided some music with good vibes which really put the "strawberry" on top for this experience.
If you're looking for somewhere to stay during this festival season that is out of the hustle and bustle, yet still within reasonable traveling distance, Hidden Serenity will give you everything you're looking for.  Our five luxury rooms offer amenities such as small in-room refrigerator, robes, snacks, beverages, fireplaces, private baths with tubs and showers and excellent luxury sheets.   Start the day with a freshly ground, french-pressed coffee or Sally's famous fresh herbal tea, as well as a gourmet breakfast before heading out to your destination.  There is no lack of things to do unless that's what you'd like.   If you are ready to book with us, we would love to have you! It is our passion to provide our guests with a relaxing experience so that they can leave feeling totally refreshed. Plan your getaway here and indulge.